People


.Heroines
.Biographies
.Group Histories
.Aboriginal Leaders


Biographies of Famous Canadian Women
Meet some interesting Canadian women. We'll be adding material about notable women in Canadian history as well as cool Canadian women who are making history now.
As a start, we present:


Susan Aglukark, singer and songwriter
Louise Arbour, judge
Jean Augustine, teacher and politician
Roberta Bondar, astronaut
Jocelyne Bourgon, civil servant
Liona Boyd, classical guitarist
Deanna Brasseur, jet fighter aircraft pilot
Rosemary Brown, politician and feminist
Kim Campbell, politician and 19th prime minister of Canada
Maryse Carmichael, Snowbirds pilot
Emily Carr, artist and writer
Shushma Datt, pioneer in broadcasting
Françoise David, activist and social worker
Amelia Douglas, fur trade pioneer
Ellen Fairclough, politician
Barbara Frum, journalist
Annie Gale, politician
Nancy Greene, skiier, Olympian
Lotta Hitschmanova, humanitarian
Joane Humphrey, broadcaster
Pauline Julien, actress and singer
Lois Dayley Laycock, poet
Joni Mitchell, singer and songwriter
Lucy Maud Montgomery, author
Barbara Paterson, artist and sculptor
Julie Payette, astronaut
Chantal Petitclerc, athlete
Buffy Sainte-Marie, musician, artist and activist
Judith Simpson, Loyalist
Bageshree Vaze, dancer, singer and choreographer
Cairine Wilson, politician
Sharon Wood, mountaineer



100 Canadian Heroines:Famous and Forgotten Faces

Women featured in the book 100 Canadian Heroines
By Merna Forster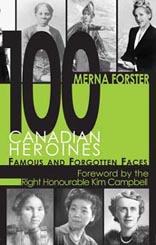 1.Maud Abbott, heart specialist




2. Lady Aberdeen, reformer



3. Emma Albani, world-famous opera singer




4. Marie-Joseph Angélique, Black slave fighting for freedom

5. Anna Mae Aquash, Mi'kmaq activist

6. Edith Jessie Archibald, suffragist, feminist, author

7. Pitseolak Ashoona, renowned Inuit artist

8. James Miranda Barry, pioneer physician

9.
Martha Black, Yukon pioneer, fortune-seeker in Klondike gold rush


10. Marguerite Bourgeoys, foundress of religious order and school, first Canadian women to be sainted

11. Molly Brant, prominent and influential native woman

12. Harriet Brooks, first female nuclear physicist in Canada

13. Agnes Deans Cameron, adventurer, teacher, writer

14. Emily Carr, acclaimed artist and writer

15. Thérèse Casgrain, feminist, reformer, politician

16. Nellie Cashman, mining prospector, adventurer

17. Kit Coleman, journalist and war correspondent, adventurer

18. Laure Conan, pioneer novelist, journalist

19. Florence Deeks, author who accused famous novelist of plagiarism

20.
Mazo de la Roche, famous author of novels about Whiteoaks of Jalna


21. Carrie Derick, first woman university professor in Canada, scientist, feminist

22. Marie Dressler, famous actress

23. Margaret Duley, first Newfoundland author to win international acclaim

24. Henrietta Muir Edwards, legal expert, activist (Famous 5)

25. Rose Fortune, first female police officer in North America

26. Laure Gaudreault, teacher, union leader, journalist

27. Marie Lacoste Gérin-Lajoie, feminist, activist

28. Helen Grant, seafarer

29. Isobel Gunn, aventurer, labourer for Hudson's Bay Company

30.

Marie Guyart (Marie de l'Incarnation), founder of Ursulines



31. Mary Riter Hamilton, painter of European battlefields

32. Helen Harrison, pioneer pilot who served in WWII

33. Ann Harvey, teen heroine in daring sea rescue

34. Anne Hébert, famous author and poet

35. E. Cora Hind, agriculturalist, journalist, women's rights activist

36. Adelaide Hunter Hoodless, homemaker, reformer, founder of Women's Institutes

37. Frances Anne Hopkins, painter of voyageurs

38. Mina Hubbard, explorer in famous Labrador race

39. Françoise-Marie Jacquelin, Acadian heroine

40.
E. Pauline Johnson, Mohawk poet and performer



41. Leonora Howard King, first Canadian doctor in China

42. Flores La Due, famous rodeo star, cowgirl, rancher

43. Mrs. Kwon Lee, first Chinese woman to settle in Canada

44. Anna Leonowens, activist, author, teacher, famous governess (King of Siam)

45. Beatrice Lillie, famed comedian

46. Jean Lumb, activist

47. Major Margaret C. Macdonald, military nurse, first female major in British Empire

48. Elizabeth Gregory MacGill, first female aeronautical engineer in North America, airplane designer, activist

49. Helen Gregory MacGill, judge, journalist, activist

50.

Viola MacMillan, miner and prospector, millionaire



51. Helen MacMurchy, physician, leader in public health reform

52. Agnes Macphail, first female federal member of parliament

53. Jeanne Mance, co-founder of Montreal, nurse

54. Hannah Maynard, pioneer photographer

55. Nellie McClung, pioneer politician, activist, author (Famous 5)

56. Louise McKinney, prohibitionist, educator, social activist (Famous 5)

57. Violet McNaughton, champion of farm women

58. Helen McNicoll, impressionist painter

59. Aimee Semple McPherson, famous evangelist

60.

Maud Menten, biochemist



61. Mikak, Inuk leader

62. Lucy Maud Montgomery, famous author of Anne of Green Gables

63. Geraldine Moodie, pioneer photographer in Eastern Arctic

64. Phyllis Munday, mountain climber

65. Asayo Murakami, picture bride

66. Emily Murphy, judge, leader in Persons Case (Famous 5)

67. Nahnebahwequay, fighter for Native rights

68. Margaret Newton, scientist, researcher

69. Mary Irene Parlby, champion of wmen and farm families(Famous 5)

70.
Mona Parsons, heroine who fled Nazi prison



71. Mary Pickford, famous actress, filmmaker, businesswoman

72. Georgina Pope, famous wartime military nurse

73. Isabella Preston, pioneer horticulturist

74. Susanna Carson Rijnhart, physician, missionary in Tibet

75. Léa Roback, civil rights crusader, union leader, feminist

76. Fanny Rosenfeld, Olympian, journalist

77. Gabrielle Roy, internationally renowed author

78. Idola Saint-Jean, activist, journalist, teacher

79. Laura Goodman Salverson, author dedicated to preserving Icelandic cultural identity

80.

Margaret Marshall Saunders, animal rights crusader, author



81. Laura Secord, heroine of War of 1812

82. Shaaw Tlaa, co-discoverer of gold in Klondike

83. Mary Ann Shadd, newspaper publisher, civil rights activist, feminist, teacher

84. Shanawdithit, courageous Beothuk

85. Hide Hyodo Shimizu, teacher, leader in Japanese-Canadian community

86. Mary Meager Southcott, nurse, pioneer in health care

87. Georgina Ann Stirling, famous opera singer from Newfoundland

88. Emily Stowe, pioneer physician, suffragist, teacher

89. Taqulittuq(Tookoolito), Inuit guide and interpreter

90.
Kateri Tekakwitha, first indigenous Canadian saint



91. Thanadelthur, powerful Chipewyan Dene woman

92. Gudridur Thorbjarnardottir, Viking explorer

93. Mary Travers, singer and composer from Quebec

94. Jenny Trout, first Canadian woman licensed to practise medicine in Canada

95. Harriet Tubman, famous conductor on Underground Railroad

96. Madeleine de Verchères, teen heroine

97. Ellen Vollick, pioneer pilot

98.

Portia White, internationally acclaimed singer from Nova Scotia



99. Alice Wilson, geologist

100. Marie-Marguerite d'Youville, social activist devoted to poor, first Canadian-born saint



100 More Canadian Heroines:Famous and Forgotten Faces

Read the stories of another hundred notable Canadian women in the book 100 More Canadian Heroines>
By Merna Forster