Latest News: Canadian Women Making History

53,475 Sign Petition to Get Women Back on Canadian Bank Notes
February 1, 2015

More than 53,000 Canadians have now signed the petition to get Canadian women featured on bank notes. The Bank of Canada has not yet accepted the demands of the petition, so the campaign continues and more support is needed.

At the end of July 2013, Canadian author and historian Merna Forster launched the campaign to get women from Canadian history back on our bank notes after they were purged by former Bank of Canada governor Mark Carney. Curiously, once Carney became Bank of England governor he responded to a similar situation in the UK (including a petition signed by 35K) by announcing a bank note to celebrate author Jane Austen.

Forster suggests that bank notes that belong to all Canadians should depict a wider range of Canadians, of both genders as well as various ethnic origins. Who and what is celebrated on our bank notes matters, as it reflects what we consider important in our culture and history and who we consider worthy of honouring for achievement. Women are not absent from the list of notable worthies in Canada, just notably absent or under-represented in many of the images that surround us and which contribute to our view of the world and our potential role in it.

You can sign the petition at change.org.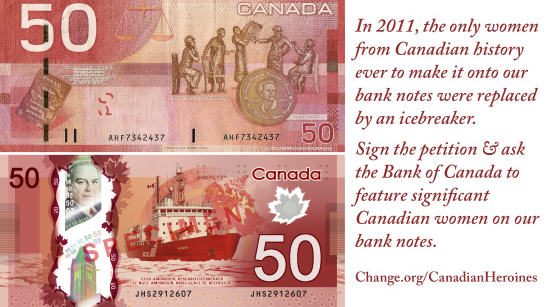 Campaign supporters have also been involved by suggesting female historical Figures (Canadian) that they'd like to see on bank notes.You can check out the many great candidates at Women on Canadian Bank Notes, and nominate your favourite Canadian heroine!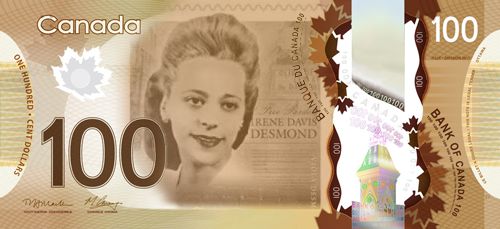 Viola Desmond, civil rights icon who challenged racial discrimination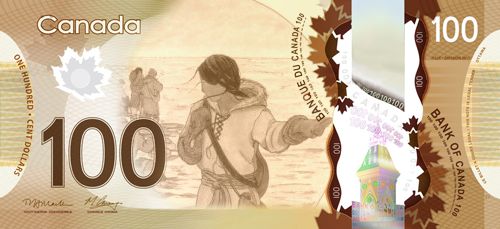 Thanadelthur, powerful Chipewayan Dene woman who played an
influential role in the fur trade



Dr. Jenny Trout, first woman licensed to practice medicine in Canada and supported creation of Women's Medical College at Kingston.

Bronze Medal for Kaillie Humphries
January 30, 2015

Canadian Olympian Kaillie Humphries won a World Cup bronze medal today, after competing in the women's bobsleigh competition in La Plagne, France. More.




Kaillie Humphries

Acclaimed Journalist Simma Holt Dies
January 23, 2015

Simma Holt passed away in Vancouver at the age of 92. Born in Alberta, Holt was a well-known journalist and author. Elected to the House of Commons in 1874, she was the first Jewish woman in Canada to become an MP. A fearless trailblazer, she was a crusader for women's rights. More.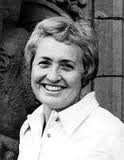 Sima Holt

Death of Jean Pigott
January 10, 2015

Former Conservatie MP Jean Pigott died at her residence in Ottawa today. A successful business leader, she was the longtime president of Morrison-Lamothe Baker and also chairwoman of the National Capital Commission in Ottawa. More.




Jean Pigott (National Capital Commission photo)