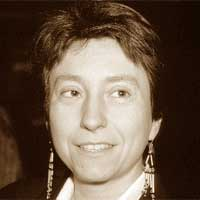 Françoise David


Françoise David is a prominent activist who was president of the Fédération des femmes du Québec (Quebec Federation of Women) from 1994-2001. In 1995 she organized The March of Women Against Poverty - the famous "Du pain et des roses" (Bread and Roses).

Françoise David was born in Montreal, the daughter of renowned heart specialist Paul David. After graduating with a degree in social work from the University of Montreal, she began a career in social services in Montreal. Françoise left the public sector in 1987 to coordinate the amalgamation of women's centres, then became president of the Fédération des femmes du Québec in order to play a more active role in the feminist movement.

Françoise David's major achievements include the organization of The March Against Poverty, which resulted in thousands of women on the march to a rally in Quebec, and her role as initiator of the World March of Women in 2000. As spokesperson for the latter initiative, she addressed the General Assumbly of the Special Session of the United Nations. An influential militant feminist, Françoise continues to battle for an increase in the minimum wage, improvements in pensions, more public housing and a variety of related measures to reduce poverty and improve living conditions for women.

A determined leader, Françoise David created a new political group in Quebec, a leftist and feminist party called Option citoyenne (Citizen Option). She launched the group in May 2004 and is now the leader of Québec Solidaire.

Discover more

Online:
D'abord solidaires
French site. A new group for which Françoise David is spokesperson.