Celebrating Women's History Month in Victoria


You're invited!

Merna Forster requests the pleasure of your company at Emily Carr House for a celebration of Women's History Month and the publication of 100 More Canadian Heroines: Famous and Forgotten Faces. The gifted Emily Carr was featured in volume one of this bestselling series, so we think Emily's childhood home is the perfect place to reveal another hundred great Canadian women who should be remembered.

Merna will give a brief presentation and light refreshments will be served. She will also have copies of her new book on hand.

Special guests:

David Clarke, family historian for The Butchart Gardens, will be joining the festivities as we pay tribute to Jennie Butchart, one of the many amazing women featured in Merna's new book. A wonderful opportunity to learn more about the history of The Butchart Gardens, from the historian who has worked there for 46 years!
Emily Carr, as portrayed by actress Molly Raher Newman. Your chance to get a photo of yourself with "Emily."
Members of the Victoria Genealogical Society will be available to provide advice on family history research. Perhaps you will decide to join the group and discover the forgotten heroines in your own family?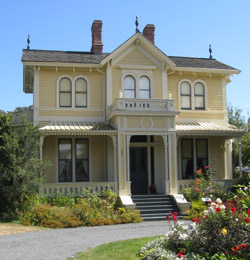 Emily Carr House
Photo © Merna Forster

When: Sunday, October 2nd, 2011
2:00 - 4:00 p.m.

Where: Emily Carr House, a national historic site
207 Government St.
Victoria, BC

No entry fee for this special event.
Residential parking for Emily Carr House visitors permitted in area.

Please RSVP to Mail.