About



.About the site
.Site Reviews
.Participate
.Meet the Author
.Author Events
.Picture Book

100 More Canadian Heroines: Famous and Forgotten Faces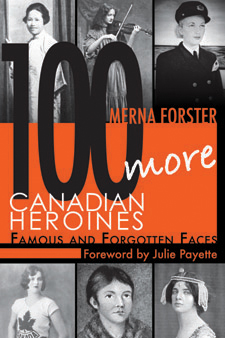 Following the bestselling 100 Canadian Heroines, Merna Forster presents 100 more stories of amazing women.
In this second installment of the popular Canadian Heroines series, author Merna Forster brings together 100 more incredible stories of great characters and wonderful images. Meet famous and forgotten women in fields such as science, sport, politics, war and peace, and arts and entertaiment, including the original Degrassi kids, Captain Kool, hockey star Hilda Ranscombe, and the woman dubbed "the atomic mosquito."
This book is full of amazing facts and trivia about extraordinary women. You'll learn about Second World War heroine Joan Fletcher Bamford, who rescued 2,000 Dutch captives from a prison camp in a Sumatran jungle while commanding 70 Japanese soldiers. Hilwie Hamdon was the woman behind the building of Canada's first mosque, and Frances Gertrude McGill was the crime fighter named the "Sherlock Holmes of Saskatchewan."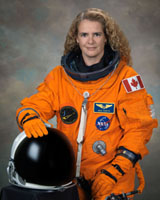 Julie Payette (Canadian Space Agency)

Canadian astronaut Julie Payette wrote the foreword for this second volume about Canadian heroines.

Non-fiction
ISBN-10: 1554889707
ISBN-13: 978-1554889709
$24.99 (paper), 410 pages
125 b&w illustrations
Published by The Dundurn Group
Ask for it at your local bookstore
Buy from amazon.ca

Buy from amazon.com

Purchases from the links above will help support this website.
Buy from chapters.indigo.ca



Reviews

"Historian Forster's 100 More Canadian Heroines is a welcome follow up to her acclaimed 100 Canadian Heroines ... attractively designed, inspirational and sadly, there is still a need to highlight the achievements of Canadian women ... A fine purchase for schools and public libraries. Highly recommended."
Val Ken Lem, Librarian, Ryerson University
Canadian Review of Materials
University of Manitoba


"This companion to Forster's 2004 volume (One Hundred Canadian Heroines: Famous and Forgotten Faces) continues the important task of documenting the lives and contributions of noteworthy and often undercelebrated Canadian women ... This collection provides a look into the lives of Canadian wayfarers who helped break down sexist barriers in every calling. Perhaps more importantly, the collection guards against the historical forfeiture of these rare lives and records the highly circumscribed times in which they lived."
Feminist Collections: A QUARTERLY OF WOMEN'S STUDIES RESOURCES
University of Wisconsin Women's Studies


"AWESOME, AWESOME, AWESOME......every school should have copies of Merna Forster's books to inspire and encourage young females!!! "
Wally's Mom
Vancouver Public Library, Community Comment


"Looks to become a bestseller."
Rudy Haugeneder
Victoria News


"What a wonderful book! I'm truly inspired by the courage and determination of these women. Love it!"
Diane
Goodreads


"There are so many stories that it is impossible not to be inspired while reading!"
Jaime
Goodreads


"Forster's book blows the dust off conventional accounts of Canadian history, rendering our heritage suddenly colourful and utterly human."
Adrienne Dyer
Boulevard Magazine


"From the Cariboo Gold rush to the country's oldest Chinatown, Canadian history is full of amazing women. Just ask Merna Forster."
Jennifer Blyth
Victoria News, Oak Bay News (Black Press)


"Full of tales of feisty women overcoming poverty and racial and gender-based prejudice to accomplish something in life."
Kaiji Pepper
Dance International (magazine)




Michelle Rempel

"These are powerful stories of strong women who helped to build our country, many who truly are unsung heroines. An inspirational read."
Michelle Rempel, MP and parliamentary secretary to the environment minister
Calgary Herald


"The exciting tales in this book give an interesting angle to Canadian history that might otherwise have been forgotten."
Hostelling International - Canada


"This is an important book that helps to, finally, give credit where it is due. And yes, we expect to see volume three in the Heroines series."
Dave Obee
Times Colonist, Victoria




Yonah Martin

"In two volumes of 100 Canadian Heroines: Famous and Forgotten Faces, she[Merna Forster] documents 200 remarkable women in our history who have forever changed our nation, transforming people's understanding of women's contributions in leadership, sciences, arts and more. Through writing, Merna hoped to rescue these trailblazers from obscurity and give them the recognition and place in history they rightly deserve."
Senator Yonah Martin
Debates of the Senate (Hansard), Ottawa


"About 90 of the women were new to me, and I am glad to have met them...a lot of fascinating material here."
The Chronicle Journal


"Merna Forster knows the intimate details of more than 200 famous and not-so-famous Canadian women."
Christine van Reeuwyk
Peninsula New Review


"If you're looking for inspiration this book is full of it."
Sudbury Star


"The meticulously researched short biographies are quick and easy to read, fresh and informative. What a shame we have never heard of most of these women: their lives and achievements, usually overcoming tremendous barriers, are so inspiring!"
Peninsula Newcomers Newsletter


"This week's book of the week is more of a double whammy...Among the women featured are activists, artists, politicians, and doctors, I'm sure most of us were never aware existed, but have managed extraordinary accomplishments despite the most difficult odds."
Elise Cotter
Historica-Dominion Institute


"While many people know the names Roberta Bondar, Alexa McDonough and Hayley Wickenheiser, fewer probably recognize Eliza M. Jones, Elizabeth Smellie and Kathleen Parlow. The leader in agriculture, first female colonel in the Canadian Army and world-renowned violinist are three of the women featured in Merna Forster's 100 More Canadian Heroines: Famous and Forgotten Faces."
The Chronicle Herald (Halifax)


"So, where are all the Canadian heroines? ...I mean women who otherwise would not be known except that they dared to do what others said was impossible. And then, this week, I found these two great books by Merna Forster: 100 Canadian Heroines, and 100 More Canadian Heroines: Famous and Forgotten Faces."
Lana Meredith
whatliesaroundthebend.wordpress.com



About the Author
Merna Forster is a historian who lives in Victoria, British Columbia. She wrote the book 100 Canadian Heroines: Famous and Forgotten Faces as well as a picture book called Children of the Prairie, which was published by Baico Publishing. More about the author.